Starting as a young company with "small projects" and then being recognized by the market as a company able to offer high performance solutions is the journey taken by Argesystems. In this journey Argesystems was accompanied and supported also by WITTENSTEIN. In a short time the swiss partner has become a trusted supplier, not only for products, but also for services and technical advice, which are distinguished by their high quality.
In order to build high-performance systems such as those proposed by Argesystems, it's necessary to find suppliers that are up to the challenge. For this reason, after listening to the requests of its customers, Argesystems selected WITTENSTEIN, with which achieved excellent results.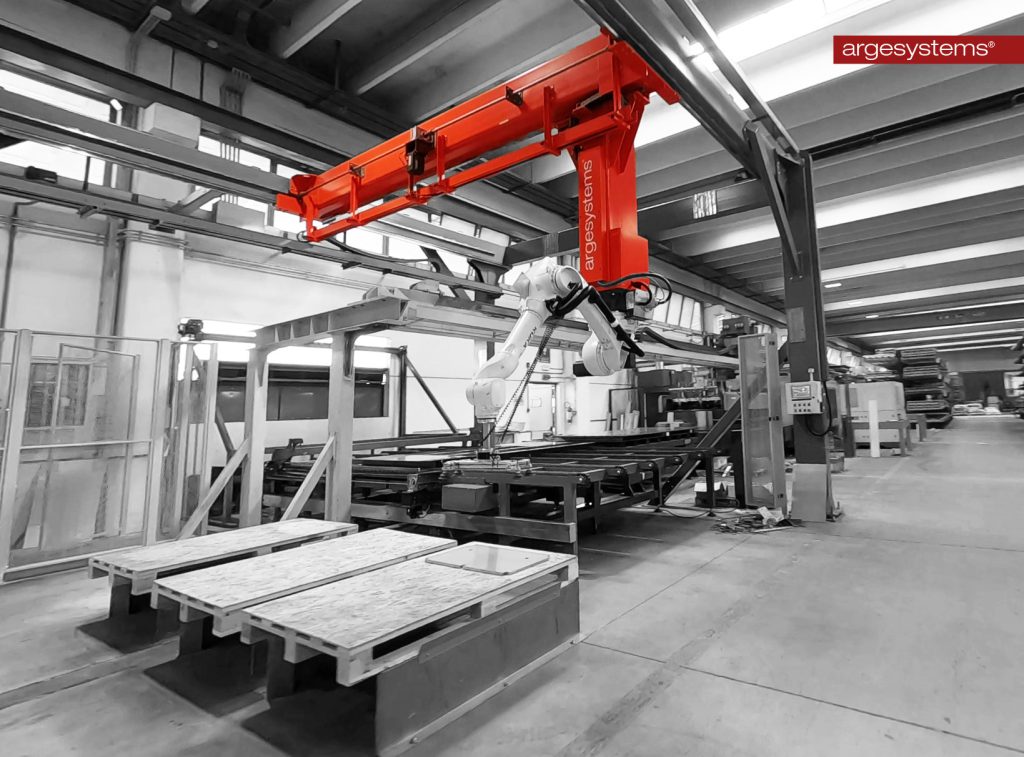 A look into two realities.
Argesystems was founded in 2010 in Castelfranco Veneto (TV). In its early years, the company was responsible for designing and manufacturing components for press brakes. Over time, it has grown and specialized in the production of elaborate automation systems, automatic storages for press brakes and robotic cells.
A company born for passion and built on experience and design. Because if the passion for mechanical engineering is the engine that moves it, it is the design ability that keeps it constantly focused on its goals. Argesystems' main goal is to continue to search for innovative solutions of high quality, focusing on customer needs.
This goal is shared by Argesystems and WITTENSTEIN S.P.A., the direct subsidiary of WITTENSTEIN SE, a European company headquartered in Igersheim-Harthausen, north of Stuttgart, which operates in the field of precision automation: from planetary and orthogonal gearboxes, to rotary and linear servo actuators, dimensioning software and transmission systems for the most various industrial field, including aerospace, subsea, oil & gas or industry 4.0 technology.
The Italian branch now has almost 60 employees and an external sales network that guarantees a widespread presence throughout the country, which ensures targeted and timely services from the design phase to the post-sale.
From automatic tool changer to robotic cell.
In 2016 Argesystems launched the first automatic tool changer (ATC) for press brakes, currently the company's core business. This innovative solution in terms of process and product has established itself over time and has been increasingly improved thanks to the collaboration of the best partners manufacturers of press brakes. The automatic tool changer, in fact, has a technology able to interconnecting the storage to the press, automating the bending process.
ATC proves to be the most suitable solution for saving time in the bending cycle, combined with flexibility and production speed. The added value of this product is the integration with any type of new generation press brake.
With this solution, the operator has no longer to worry about performing the manual press set up, since the ATC, starting from a common file . cad, is able to automatically create bending stations, recognizing the necessary tools for the process.
Argesystems' effort and work in terms of innovation and development has led to the creation of a new system called TWIN.
TWIN is a system consisting of two press brakes equal or different in tonnage and length and an automatic storage. This increases productivity and flexibility thanks to a single shared tool storage.
In the last year Argesystems has experienced a period of transition. Aware that these moments are also times in which great opportunities can be cultivated, the company wanted to approach the great universe of robotics and has created a new and innovative robotic cell. This robotic cell is a 29 meters long plant divided into two macro areas, one dedicated to the laser discharge and one of bending, where the TWIN tool change system reigns.
The uniqueness of the system lies in the use of two 8-axis portal robots, where the eighth axis is used for bending. Robots can be used not only for the bending part, but also for sorting and palletizing the laser unloading.
These automation systems have an high flexibility of the robots, which can work skillfully with or without human intervention, arriving to perform shifts in a totally automatic way. The plant infact has been designed to produce 24h to 24h, managing production by day through operators and/or robots, while at night completely automatically.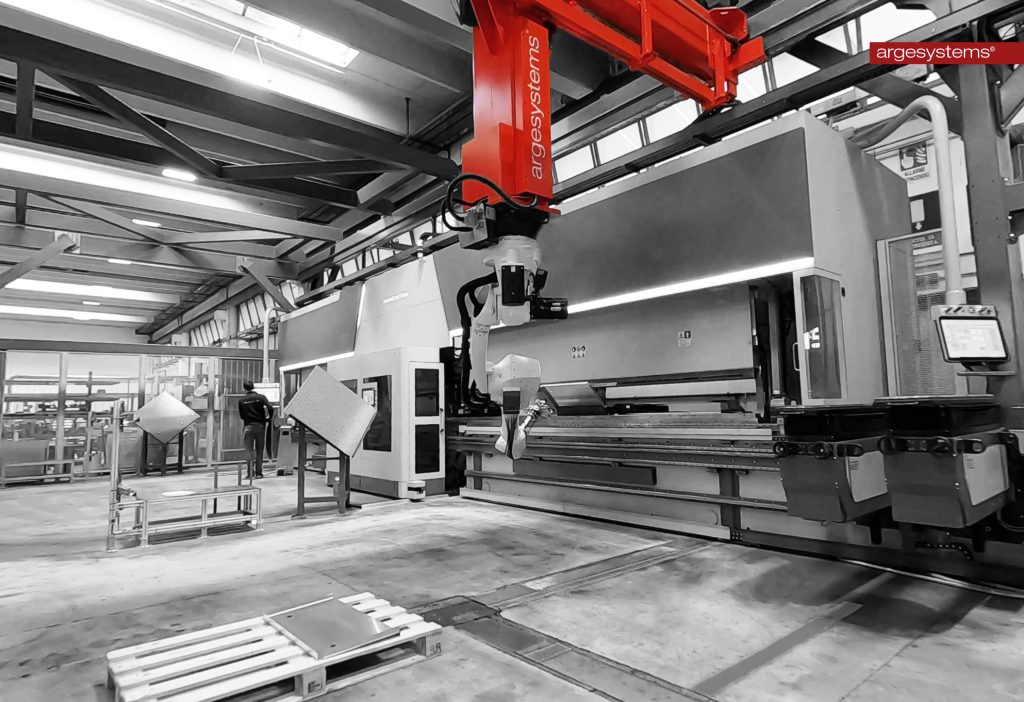 WITTENSTEIN challenge.
The automatic tool changer is a complex system, consisting of multiple axes, for which are required high-performance components.
After a depth analysis, also with the help of cymex dimensioning software. 5, the WITTENSTEIN Technical Team has identified a tailor-made solution, based on the performance requirements of Argesystems.
Eng. Radice – Area Manager & Engineering of WITTENSTEIN Italy explains: "We focused on a package that included NP family gearboxes, both coaxial and angular reversal with premounted sprockets with straight or inclined toothing, hollow shaft worm screws and CP series gearboxes on the axis of rotation. To give greater safety to the axes and greater fixing stability we recommended the use of a flange R, with slot holes, typically used on very high-end gearboxes or even reworked flanges to better fit the motors used, without lengthening assembly times. We arrived at this selection by studying the entire transmission.
From here, the strong conviction to give a wide-ranging consultancy that considered the entire design of the machine (interfacing with other components, tolerances etc.) and not only of our products."
A win-win collaboration.
"Our partnership goes back to the moment when we expanded our target and wanted to guarantee an even higher quality to our customers. WITTENSTEIN is internationally recognized and this has zalso enabled us to improve foreign assistance. Argesystems believes it is essential to find a one-brand solution and with WITTENSTEIN it was possible. Being able to work with a single supplier made our job easier and allowed us to receive timely and timely assistance when needed." Explains Maria Timis, project manager at Argesystems.
"With Argesystems was born immediately an excellent collaboration, guided by the desire of both companies to give their customers everything they need to be competitive in a constantly evolving market, faster and faster", confirms also Emanuele Zanardo, Contact Area WITTENSTEIN for the Triveneto.
Radice continues: "A relationship of trust was established immediately and, thanks to this, we were able to propose solutions that were a bit different from the standard ones, customized to the specific application. On the other hand, the vast knowledge in different application field is a plus that allows us to have a wide knowledge of the strengths and limitations of the alternatives proposed".
Everything for the benefit of the customer.
"The thing that most unites these two dynamic realities from the point of view of the product is the customization: as WITTENSTEIN studies its product according to the needs of Argesystems, so we do with our solutions. The adaptability of our products is certainly one of our greatest features.
The relationship we have built with WITTENSTEIN has always guaranteed us the advice of industry experts during the design period, a supply on time and a great technical support", remarks Maria Timis. "All advantages that, then, benefits our customer downstream."
Emanuele Radice and Emanuele Zanardo, whose main satisfaction is to see the customer satisfied for the result obtained, confirm: "The wide range of products we can offer and our experience allow us to calibrate with precision cost/ performance and find together with the customer the right solution for its lines. On the one hand, therefore, all the German precision, on the other the Italian flexibility in knowing how to go beyond the standard."
Not only a relationship of collaboration, but also a mutual trust and openness, to the benefit of the customer!