Automatic tool changer system for press brakes, useful for automatic set-up
---
AS18 has been designed to make the bending system more versatile, faster and more reliable, in a situation where the operator no longer runs the machine set up, but uses his time to prepare the new bending batch.

AS18 finds its maximum expression in the minimum batches where it is possible to reliably estimate the machine setup, and where the cycle times become important to be competitive on the market. AS18 proves to be a versatile and flexible machine thanks to its tool storage capacity (32 – 52 – 60 m).

The possibility of using both Promecam tools and Wila Style becomes unique in its field. The user interface has been studied in a intuitive and user-friendly, it is possible to perform the programming of the piece both on the machine and in the office.
Tool storage capacity
---
The tool storage can have different amplitude of tools storage divided by:

capacity 32mt > 7 racks
capacity 52mt > 12 racks
capacity 60mt > 10 racks


Combination racks
---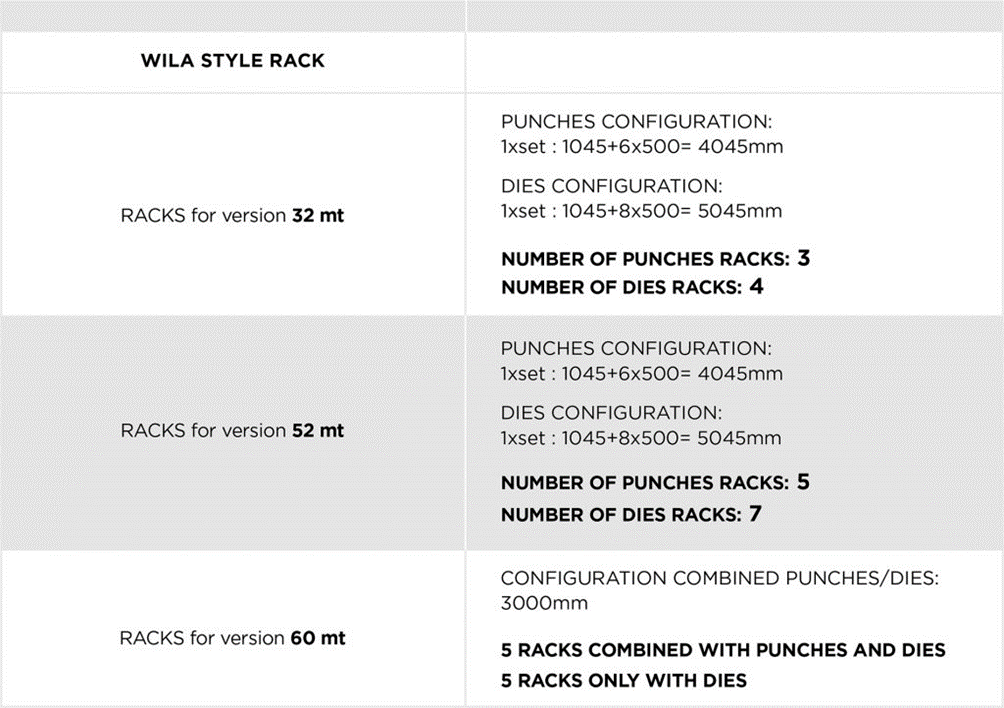 Tool storage position
---
An important automatic tool changer's features is its flexibility in relation to the press.
The tools storage can be housed either on the right or on the left of the press brake.

AS 18 TWIN
The storage flexibility gives the possibility to create a unique system, twin. The twin system makes available all the tools range at the service of two press brakes.
The twin magazine has min. 52 and max. 60 meters tools capacity, while the press brakes can be same or different in tonnage and lenght. This system is provided with 10 racks: 5 combined with punches and dies and 5 only with dies.

Automatic tool changer benefits
---
01. TWIN: ONE STORAGE AND TWO PRESS BRAKES:
• independently management of two press brakes
• reduction initial investment
• space reduction in production area
• optimization of internal procedures and processes
02. EASE OF USE:
• automatic tool configuration and cleaning
• operator focused only on the bending process
• using both W-style and Promecam tools
• 3D files processing speed
• simple and intuitive user interface
03. INCREASE THE SECURITY:
• less risk to have work accidents
• work space becoming more organized and safe
04. INCREASE PRODUCTIVITY:
• flexibility of use
• big tool storage capacity
• speed in tooling times
• production optimization
• automatic system that speeds up the production process
• minimization of human mistakes
• precise storage according to the tool library
05. OFF LINE PROGRAM:
• reduction programming times on the machine
• multiprogram (one program, two press brakes)
• simplified workflow and evolution of workspace
• reduction of interruptions and business costs
• not require expert operators
• continuous monitoring and processes review
• reduction set up times