Argesystems has developed a new application software for the management optimization of the
logistics bending processes, managed by a vertical storage. An innovative connection between
one or more press brakes simplifies the set-up process.
The solution allows to organize bending tools, punching machines and laser consumables with
incredible results in terms of increasing picking speed.
STRUCTURE
---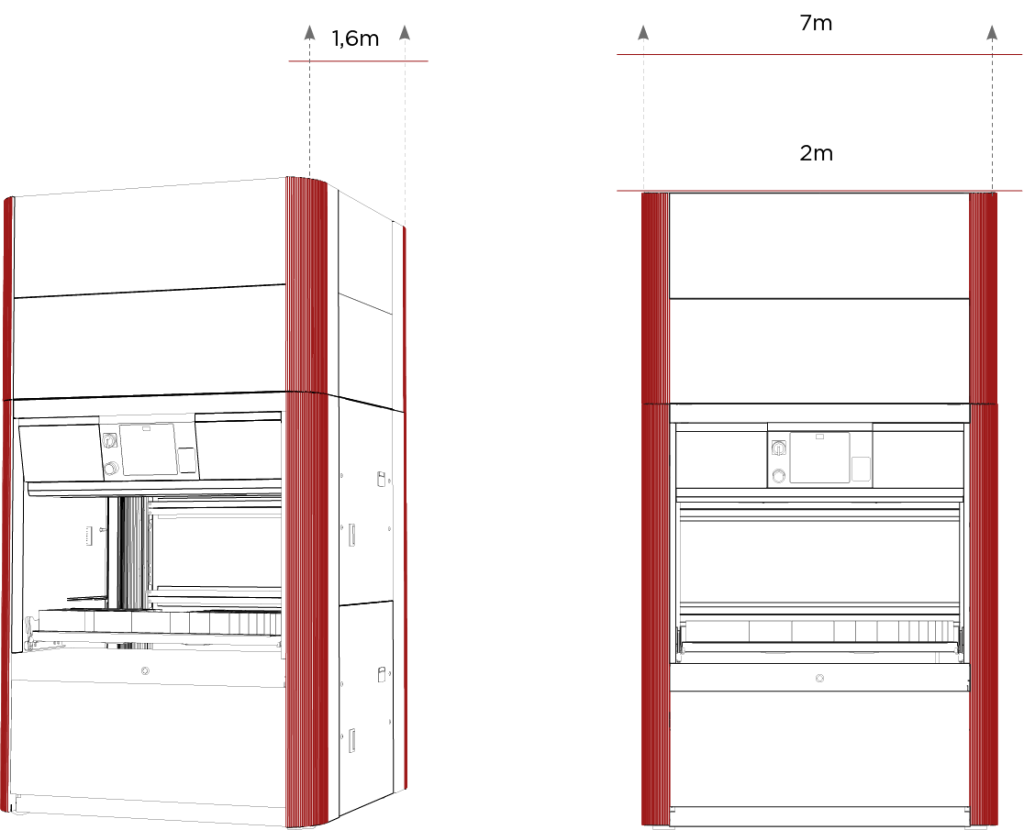 The storage has a modular structure; its height can vary from 2mt to 7mt with just 1.6 meters of
depth and has a maximum load of about 25,000 kg.

The reduction of floor space exploits vertical storage room, and makes the material more
accessible.

This system enable a precise management of articles stoked in the storage, reducing picking
and deposit errors to zero, driving the operator in his activity within the work area.
Internal Structure
---
The internal structure consists of drawers designed according to the tools configurations.
Each drawer before being placed inside the structure is measured in height to ensure the maximum
possible storage density, and for each handling is calibrated predicting cases of overload.

Tool configurations can be customized according to customer requirements.

The storage capacity for each drawer is 5 meters of linear tools, which can be both Promecam
and W-Style, for a maximum load of 350kg each.
Integrated console
---
The software is managed via a touchscreen monitor located above the pickup area.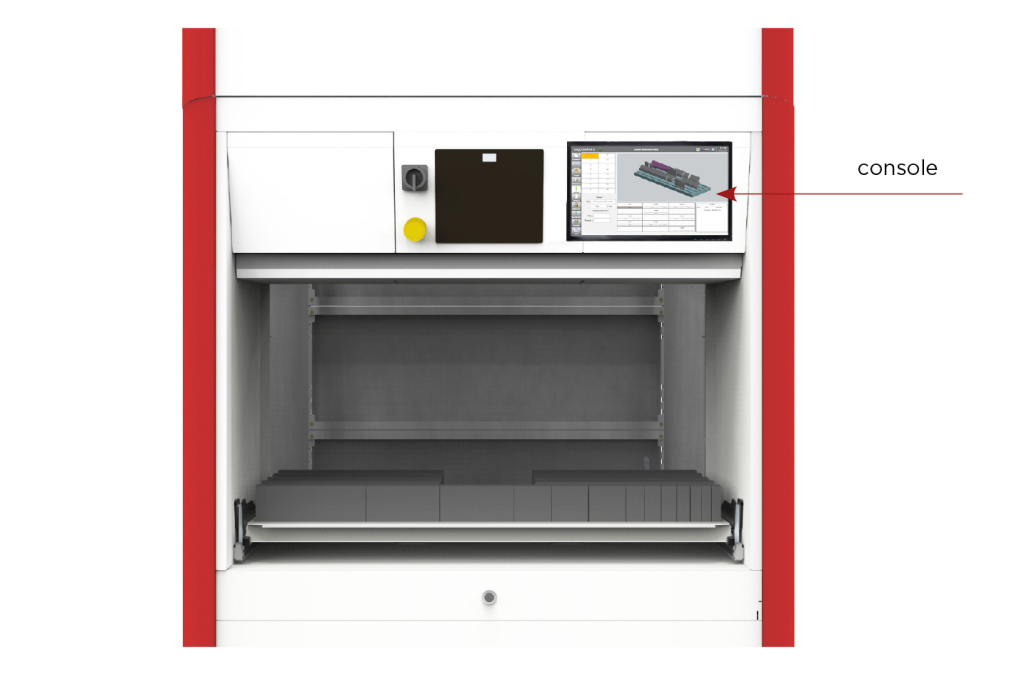 SOFTWARE
---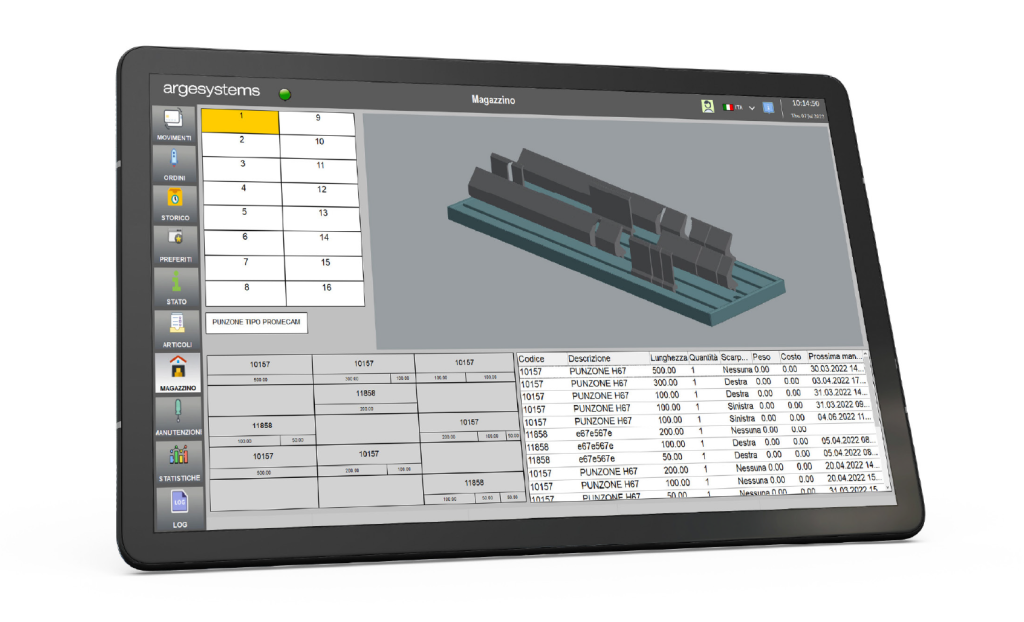 The software was designed to interconnect the storage to one or more press brakes and keep
track of pickup and drop operations, reducing errors to zero. Press brakes must be operated by
the latest generation of CNC Delem or ESA.

Software specifications:
• Picking and depositing different types of tools;
• Stock punches and dies for bending;
• Stock punching tools and laser consumables;
• Allows an easy interaction between the operator and the machine;
• Authenticated with personalised and authorised login;
• History of tools movements.
• Internal tool library;
• 2D tool drawing;
• 3D drawer configuration.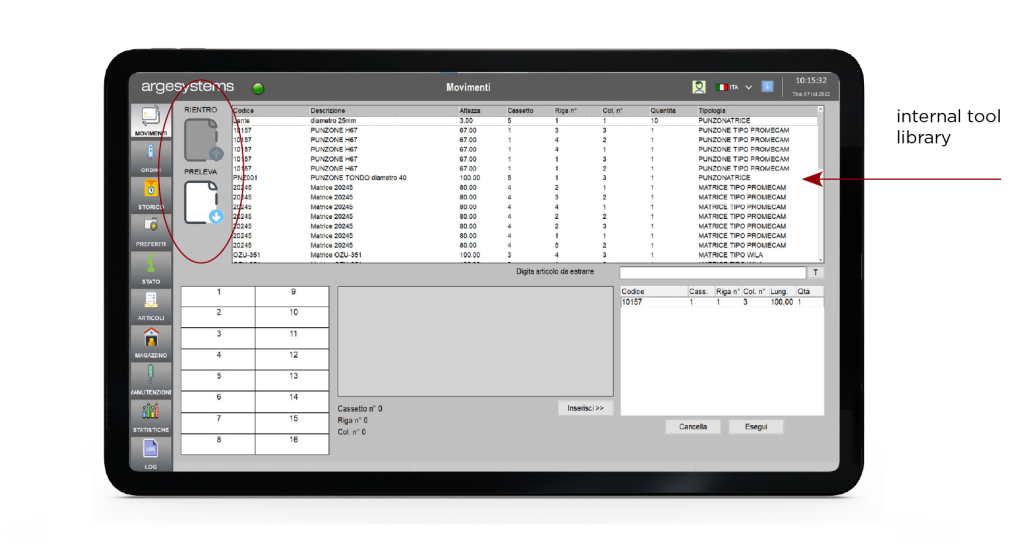 Visual identification of available or unavailable tools:
• Red: tool delivered or ready for picking
• Green: picked-up tool
• Purple: tool missing in the storage

Software functions
---
• Manual creation of tools picking list, necessary for bending stations;
• Import work orders directly from press brakes;
• Login enabled for single operator;
• Drawing up the pick list according to the working order;
• Digital visualization of removed and deposited tools status;
• Check of available or unavailable tools.
Highlights
---
• Better organization in the work area;
• Efficient time management;
• Monitoring the bending process and the status of the tools;
• Speed up the bending processes.